Custom design this Print Wrap Ring Binder with our range of sizes and finishes. Print Wrap includes digital printing to allow you to add your own design to the full ring binder cover. See how ›
All prices in US Dollars (USD). Other currency displays are estimates only.
How to add your own artwork
Step 1 – Download the appropriate template below. There is an instruction file in each zipped folder to walk you through.
Step 2 – Add your artwork to the template.
Step 3 – Upload your artwork PDF to the Artwork File field or if the file size is larger than 30MB, please use WeTransfer or Dropbox to upload your file in the options form above.
TEMPLATES
Product Details
Product Information (click to expand)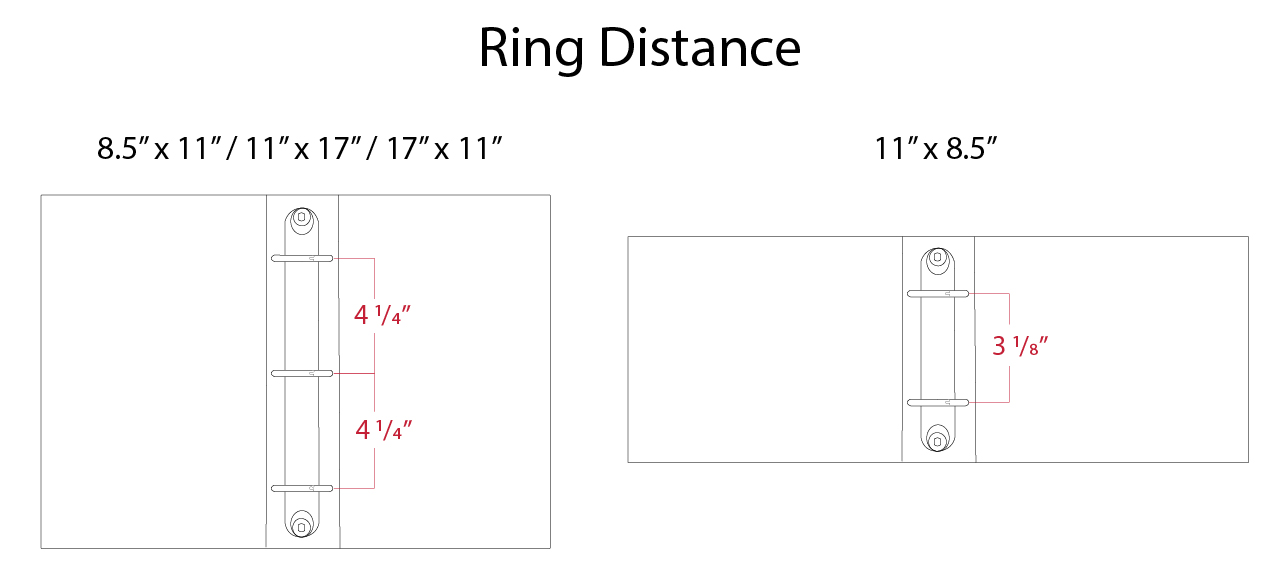 Cover Size & Orientation
Ring Capacity
Front Cover Dimension
8.5 x 11″
3/4″
3 Ring – 4 1/4″ centers
Width: 10 3/4″
Height: 12″
Spine: 1 3/8″
1 1/2″
3 Ring – 4 1/4″ centers
Width: 11 1/4″
Height: 12″
Spine: 2 3/8″
2″
3 Ring – 4 1/4″ centers
Width: 11 3/8″
Height: 12″
Spine: 3″
11 x 8.5″
3/4″
2 Ring – 3 1/8″ centers
Width: 14 1/2″
Height: 9 3/8″
Spine: 1 3/8″
1 1/2″
2 Ring – 3 1/8″ centers
Width: 15″
Height: 9 3/8″
Spine: 2 3/8″
2″
2 Ring – 3 1/8″ centers
Width: 15 1/8″
Height: 9 3/8″
Spine: 3″
11 x 17″
Paper Size: 11 x 17″
3/4″
3 Ring – 4 1/4″ centers
Width: 14 3/8″
Height: 17 3/4″
Spine: 1 3/8″
1 1/2″
3 Ring – 4 1/4″ centers
Width: 15″
Height: 17 3/4″
Spine: 2 3/8″
2″
3 Ring – 4 1/4″ centers
Width: 15 1/8″
Height: 17 3/4″
Spine: 3″
17 x 11″
Paper Size: 17 x 11″
3/4″
3 Ring – 4 1/4″ centers
Width: 19 1/4″
Height: 12 3/4″
Spine: 1 3/8″
1 1/2″
3 Ring – 4 1/4″ centers
Width: 19 5/8″
Height: 12 3/4″
Spine: 2 3/8″
2″
3 Ring – 4 1/4″ centers
Width: 20 1/8″
Height: 12 3/4″
Spine: 3″